I'm walking in St. Louis' City Museum through a menagerie of beautifully crafted stone and gleaming white terracotta. Everything around me has been salvaged from venerable old buildings that fell to "progress" here. I turn a corner and see a 19th century, rough-hewn stone drinking fountain. Hand-chiseled into the front of it is an invitation to the thirsty stranger, "Come Be Refreshed."
From what we've seen the past two days, those three words might as well be the unofficial motto of this archetypical Midwestern city.
Now How Much Would You Pay?

Vacations can be expensive. Airfares just keep on rising, and in most cities, the parade of sights can quickly add up to a rather pricey weekend away. St. Louis is that rare exception — a weekend visit here is not only possible, but also ridiculously affordable. AirTran  only charges a paltry $59 each way for a direct, one-hour flight from General Mitchell. Once you arrive, if you time it right, most everything a family could want to do there is absolutely free. Seriously. We recently visited family friends there, and left genuinely impressed.
Where to Stay
If you don't have friends to stay with, consider two new options that have livened up the hotel scene. The ultra-posh Four Seasons is hard by the Mississippi River, and—well, what can I tell you, it's The Four Seasons. This new sibling in the acclaimed international chain is well worthy of the company's reputation, and what nicer thing could be said of it?
The other option is more affordable, and definitely more eclectic. The whimsical Moonrise Hotel, in the recently revitalized Delmar Loop district, is unique in that it finds a sweet spot between appealing to kids and adults alike. The Buck Rogers paraphernalia and moon rocket touches throughout are enjoyably funky and ironic for parents, and just plain fun for the little ones.
Believe in Magic
After checking into your hotel of choice, go directly to one of the very best children's museums in the world, The Magic House. You've cleverly arrived on the third Friday of the month (that's the one day each month when admission is free) so you've also just banked your first freebee. Occupying an old, yet endlessly retrofitted and expanded Victorian house, this place is a wonderland of fun and educational activities, labyrinths, interactive environments, tools to make music, and so much more. There are both indoor and outdoors play areas, and even a café to catch your breath before plunging back in. A fantastic place to play with your children.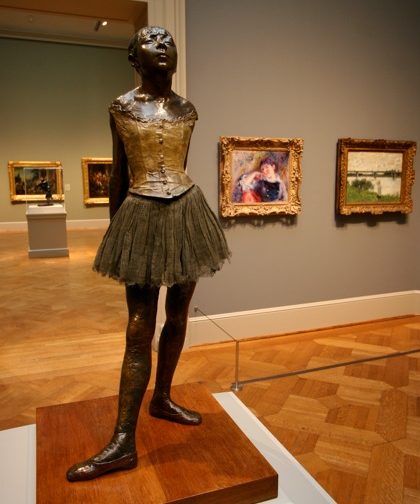 Into the Woods
Many of St. Louis' best free sights are located in the beautiful Forest Park, one of the largest urban parks in the entire United States. In the park's geographic center, in the shadow of the statue of St. Louis himself, climb the steps to enter The St. Louis Art Museum.
This grand Beaux Arts structure left over from the 1904 World's Fair is a great place to not only let your family commune with some great art– their permanent collection is one of the most respected in the country– but also to get a sense of the city's history.
The restoration of paintings is done publicly, from behind a glass wall curtain, and the restorer is happy to take questions and explain what he's doing. The mission statement and admission price is inscribed on the wall: Dedicated to Art and Free to All.
Leaving the art museum, take a right and fall down the hill a hundred yards to The St. Louis Zoo which is also– you guessed it– absolutely free. Unique experiences that can be had here include the chance to get up close and personal with a live stingray (the dangerous bit has been removed, so parents can relax), or get close enough to a penguin to scratch it behind the ears (if you can find them). They also have a fun petting zoo.
When dinnertime rolls around, stroll through the park to the lagoon and the charming and affordable waterside restaurant, The Boathouse. Spring comes here a lot earlier that it does in Wisconsin, and the lush grass and green buds of the trees are already parading out for your entertainment by late March.
If your children are older and can stay up a little later, consider walking over to hear The St. Louis Symphony or The Muny Opera perform. Every show offers half-price tickets for children. And if you're feeling lucky, head on over there 90 minutes before curtain to take advantage of the 50 Free Ticket Program that admits the first 50 people in line to any performance for… well, you know.
You're probably going to run short of time, but Forest Park also offers free admission to a great History Museum, and a fascinating Science Center. And more. While your days here will be full, your wallet will stay pretty much the same size as when you arrived.
"Be it lawful I Take Up What's Cast Away"
If you do nothing else in St. Louis, visit The City Museum. This inexhaustible font of wonders is a collection of rescued materials from all over the city of St. Louis, and all of it has been artfully incorporated into a wildly eclectic whole that the visitor struggles to contextualize. It is also one of the most entertaining and surprising museums that my family has ever encountered. Our son was captivated.
How to describe a place that contains a train, two abandoned airplanes, a school bus stranded and appearing to teeter on the topmost edge of its ten-story home and the model of a whale that you can walk through?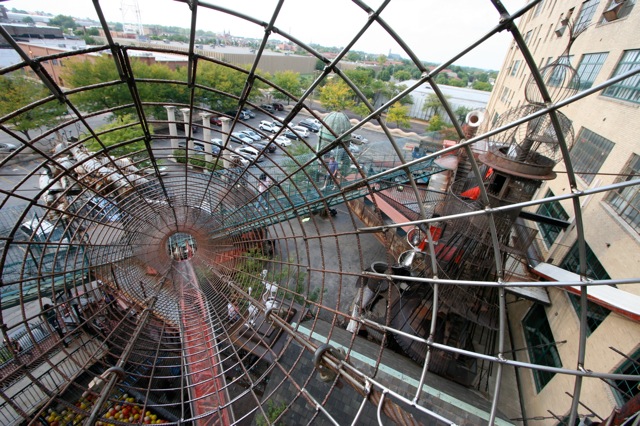 This is not to mention the stunning permanent exhibit of architectural ornament, the two bars for adults, the two huge aquariums of exotic and native fish, the rooftop Ferris wheel … I am only scratching the surface here. We stayed much longer than we'd planned, and hated to leave. This is an old saw, but… I felt like a kid again here. If Willy Wonka had a museum, this is what it would look like. Go.
While you can eat at the City Museum, it would be a shame to miss the nearby London Tea Room, a friendly little bakery and café positioned like a side car onto the end of a genuinely interesting antique and home store. Everything here is made from scratch– the scones are otherworldly– and the coffee is excellent. Once you've recharged, it's time to think about dinner.
Fit for a King

Since you've saved so much money, you can treat yourself to a truly great meal without feeling guilty about it. Go to Monarch restaurant in nearby Maplewood. Both recommended hotels can help with babysitting services, and you might want to consider it so you don't rush this experience.
The menu states that the cuisine draws on French, Asian and American Southwestern cuisine. Ignore that attempted definition — Chef Josh Galliano does. The food that arrived at our table had allegiance only to the possibilities waiting to be unlocked in the fresh, local, seasonal ingredients. Galliano, who studied at Le Cordon Bleu in London, intuitively divines the organic but often unexpected interrelationships between his thoughtfully chosen ingredients. And he riffs freely and creatively on whatever wonderful things he can lay his hands on. We enjoyed an astonishingly good meal here.
This is also a great place to put yourself entirely in the hands of your sommelier. The wine list is exemplary and the suggested pairings bordered on the supernatural. Galliano's skills haven't gone unnoticed; two months ago, he was named as Food and Wine magazine's list of People's Best New Chef nominees.
The next morning, as we say our goodbyes to our St. Louis friends, I tell them how lucky they are to be parents in a city where there is such a wealth of things to do for free. They smile and tell me that they know how fortunate they are, and that we are always welcome to return anytime. Once again I recall the welcoming phrase chiseled into the rough stone of that rescued fountain: "Come Be Refreshed."
We did. We were.
Click on the slideshow below for more images of St. Louis.
Story and Photography ©Robert Bundy