Thailand is underwater. That's what people think right now with the massive flooding that seems to have been going on for months – since July, in fact. And unless you're paying close attention, you might not notice how much more there is to see than the flood zone despite its sometimes shocking reaches.
The floods started in the north when the rains came quite a bit harder this monsoon season. At that time, places such as Chiang Mai, the lovely foreigner-loved second city of Thailand, had overflowing river waters and other rural areas were hit very hard costing lives and livelihood for many. To date, over 560 people have died. Waters are still receding in northern provinces, and residents have begun the long, painful work of recovering what they can and rebuilding.
But the flood moved south. To simplify: Thailand is a bit like a ramp from north to south. Much of the water drains to the Gulf of Thailand via three major rivers and all that flooding has rolled downhill to Bangkok, causing the worst flooding in decades. The Chao Phraya River itself, which twists right through the heart of the capital, drains 60,975 square miles of land. Bangkok is situated on a lot of low, soggy land to begin with, and this is why kings of generations past built the canal system of this Venice of the East. But as Bangkok starts to look like scenes from Costner's Waterworld, its international airport (Suvarnabhumi, or more simply, BKK) remains fully functional. Photos of the old Don Muang airport and planes in need of hip waders have caused unnecessary panic among travelers.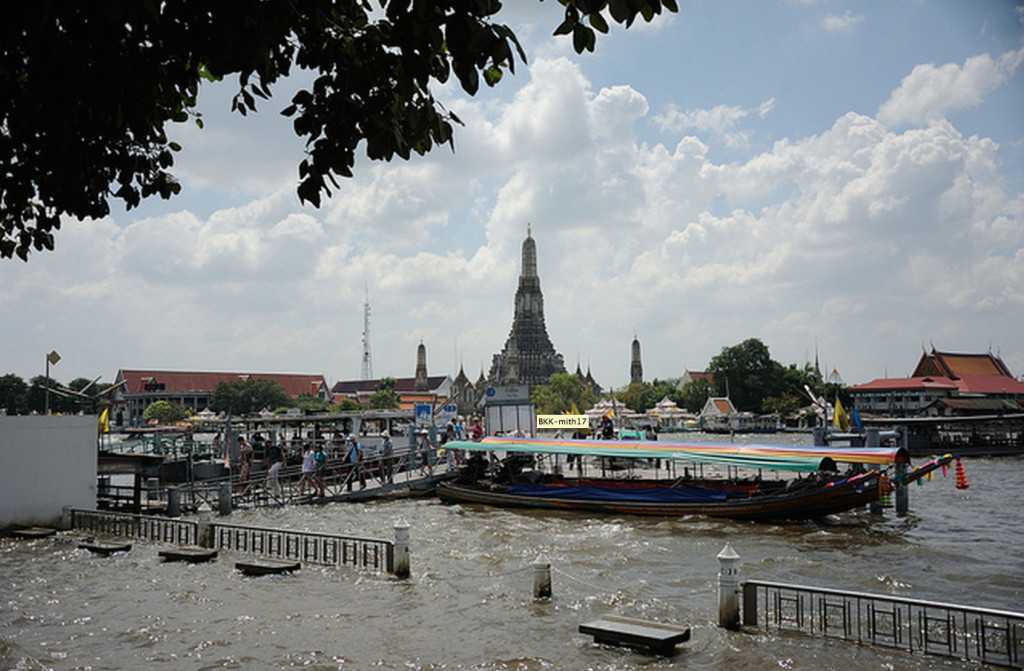 The flood effects in Bangkok will continue perhaps another month or more – no one knows for sure or at what point the waters will stop advancing on the city center. At the moment, downtown is dry, but the flooded areas along rivers and canals have been expanding. The Thai are very resilient people and with some of the saddening images of loss, you are bound to see as many photos revealing the "mai pen rai" philosophy (a common Thai expression meaning "it's alright, never mind"): improvised boats, children smiling and playing in flooded streets, families sitting on top of their dinner tables watching TV in a half-flooded room. This is not to downplay the loss, but rather reveal the character of Thai culture.
Should you cancel your trip to Thailand? I wouldn't. If Bangkok troubles you, connect through to one of the other domestic airports using some very reasonable budget airlines such as Air Asia, Nok Air and Orient Thai. (Be sure the airline you choose is operating from Suvarnabhumi! All airlines affected by the closure of Don Muang are at the moment, but that will change as the situation improves.)
Here are five very good Plan "B"s for where to go outside of Bangkok.
1. Phuket
That's pronounced 'poo-ket,' not what you think. Thailand's most famous resort zone is also its largest island. Situated in the Andaman Sea in southwest Thailand and connected by bridges to the mainland, it may see over 4 million travelers this year. Phuket is famous for its miles of beaches, watersports, and vibrant nightlife as well as some limestone mountain formations and a good number of well designed luxury resorts. From now through February is the "cool season" meaning temps are in the mid- to upper-80s. Beaches are primarily on the west side of the island, and each has its own vibe. Patong Beach is better known for partying and shopping than the more family-friendly Kata Beach. Karon Beach has an art community, while the beaches up north of the airport are more secluded and occupied by a few spacious resorts.
2. Krabi
Krabi Province is my favorite area in Thailand. It has a wide range of cheap guesthouses and higher end hotels, but hasn't yet seen the tourist rush of Phuket. Within this province are several sites touted by a Tourism Authority of Thailand campaign called Unseen Thailand. They deserve to be seen. Exotic natural attractions such as a thermal waterfall or a crystal lagoon in the middle of the forest, national forests, and a tiger-themed temple perched high above Krabi Town. To the north are mangroves and soaring limestone thrusts right off shore and easily reached by kayak. With all the karst topography, rock climbers will consider this a paradise as well. Offshore are various islands – glorious melting limestone towers rising out of glowing turquoise waters – that can be visited on day trips by speedboat or traditional long-tail boats hired at the beach in the town of Ao Nang. The Phi Phi Islands, Hong Island and many more are jewels of the Andaman Sea and can also be reached from Phuket.
3. Chiang Mai
Thailand's second city, Chiang Mai is a center point for Thailand's northern cultures. Foreigners come here for vacation and some of them end up staying months or even years. The city center is surrounded by an old moat and features several old temples. The city's food is marvelous and, especially in the open markets, cheap. The city people are country friendly, and the location offers a perfect base camp for trips into the surrounding mountains and national parks. See more temples, visit hill tribe villages and elephant camps, or watch birds and find waterfalls on Thailand's highest peak Doi Inthanon. Rent a motorbike for just a few dollars per day and ride up to Wat Phrathat Doi Suthep, a temple overlooking the city and named for the mountain it's built upon. While you explore the culinary wonders of the north – khao soi (a curry soup with egg noodles), sticky rice dipped in a spicy paste nam phrik num, sour pork sausage, local coffee at Akha Ama – you might also consider attending a Thai cooking class so you can try your hand at them when you get home.
4. Koh Samui and Koh Tao
Located very close to each other by ferry, these two islands are easy getaways from Bangkok. Samui has its own little airport, while Koh Tao would require a nearly two-hour ferry ride from there. Resorts on Samui range from cheap to ultra-luxury such as Six Senses and its hillside villas and spa. Most come here for the beaches, especially the popular Chaweng and Lamai, known for nightlife, but also for quieter stretches of sand such as Maenam, and for trips up into the mountains to see waterfalls. Other attractions include a butterfly garden, a giant Buddha, a mummified monk, and an assortment of great seafood restaurants. For those on the backpacker's budget, you may be better off on Koh Tao where you can go snorkeling or scuba diving or take affordable PADI/NAUI certification courses while staying in a cheap basic room. Anyone interested in natural beauty should take a tour from either of these two islands to see the Ang Thong National Marine Park, an archipelago of limestone karst rising up from the sea like jagged teeth.
5. Hua Hin
Where would a King go? Hua Hin sits on the coast of the Gulf of Thailand just south of Bangkok and has been a palace retreat for the Royal Family since King Prajadhipok took a liking to the place in the 1920s. The long beach is not as beautiful as the Andaman side or the islands, but its proximity to Bangkok – just a 2.5 hour drive – combined with an assortment of other attractions continue to draw travelers.
Hua Hin attracts golfers with seven professional courses and two more in the works. Get yourself a traditional Thai massage or foot massage from one of over 50 parlors in the city; find them affordable at many casual places in town or check in at one of the luxury resorts for a high-end spa experience.
The night market offers shoppers a whole variety of things from cheap clothing and CDs to fresh food and Thai crafts. Kiteboarding is popular from January through May and fishing trips can be booked as well.
Khao Takiab, a hill to the south with a collection of touristy restaurants, offers a scenic overlook of the resort city, and makes a good spot for watching the sunset. For something more natural, head south 45 minutes to visit Sam Roi Yot National Park, with its limestone peaks overlooking mangrove swamps and salt pans, home to migrating birds. And in the evening head back to Hua Hin and find a local restaurant along the beach or in the night market for fresh seafood as only the Thai can cook it.
About the Author
Check out Kevin Revolinski's contributor page for more of his exciting travel stories. Follow Kevin Revolinski's travels on his travel-planning website, The Mad Traveler, featuring many of his articles, photographs, information about his published travel guides, and more.