Silence.
It's what I was hungry for all these months, though I didn't recognize the lack of it until I was immersed in it. The quiet is startling at first, foreign to me after too much time in the city. I lean on my ski poles and take a minute to listen.
There are many varieties of quiet. There are the vacant atmospheres of waiting rooms, the faintly humming vacuum of a field of empty office cubicles, the muffled rustling of sleepless beds. These are enervating silences, cross-examining voids. They sap energy. They drain you out.
And then there is the generous, active silence of the mountain. The air moves all around you; it inspires with peace, but bristles with potential. That nurturing quiet can fill you.
I almost brought my iPod with me. Imagine that. I very nearly brought a toy along that would distance me from the very thing that I came all this way with which to commune.
I am halfway down the mountain at Deer Valley Resort in Park City, Utah. The Snow Gods have been kind to Park City this year. No–strike that–the Snow Gods got drunk, gave Park City the no-limit SnowMasterCard, and told them to go nuts.
And yet, because the snow conditions are so ridiculously ideal so much of the time here—mild temperatures and an average of 350 inches a year– the locals are completely, utterly spoiled, and will not venture out to ski unless conditions are so perfect as to defy description.
So, as it is ever-so-slightly overcast today, it's just me out here. For the moment.
And the silence is deafening.
Vortexes known as snow devils gather the curtain of whiteness and send it crashing like waves over the high embankments of fresh powder. My God, it's beautiful. And finally, tired of being a wallflower at such a magnificent dance, I decide to partner with the mountain and join in.
After an exhilarating run, I reach the base just as the sun peeks out from behind a cloud and peers at me through a monumental pine, a winking dazzle through the frozen green branches.
Chateau My God
The Chateau at Silver Lake, located mid-mountain at Deer Valley, is a marvelous place to call home when night falls. My room had two fireplaces—one in the spacious living room and another facing the bed in the master— a chef's kitchen, two full baths, a large covered deck, and a BubbleMassage tub. Just the thing for a 49-year-old body, snowboarding for the first time.
Gravity is a Bitch
Falling on my ass wasn't the worst of it, to be sure. No, the unendurable aspect was groaning like a downed steer while receiving pitying glances from five-year-old girls as they effortlessly glided past me.
My snowboarding instructor noted that experience at skiing actually hinders the newbie snowboarder. It takes about three days to learn. I had three hours.
Later, over dinner, another ski instructor shudders at the memory of her own single, never-to-be-repeated attempt at snowboarding. That makes me feel a little better. To feel a lot better, I decided to treat myself to a massage at the Stein Eriksen Spa.
The Spa at Stein Eriksen Lodge is adjacent to the Chateau and, while relatively compact, seems to burst with every kind of amenity.
I'm wearing a plush robe and sipping herbal tea when I'm introduced to my masseuse. She can't weigh more than 90 pounds. Hmmm. I was hoping for a stern, Germanic Valkyrie that would beat me to a grateful pulp.
Making the best of it, I politely requested that she use the firmest pressure she could muster.
She smiled back, then brutalized me so efficiently I had to beg her to be gentler. It was wonderful. So much for judging a book by its cover.
I Can Die Now
Mariposa is the #1 restaurant in the Zagat Guide and regularly receives the Wine Spectator Award of Excellence. Sitting in front of the lodge's roaring fire, I had seared bison filets with fois gras in a cabernet reduction. Have dinner here and it will be the culinary highlight of your trip. Maybe of your life.
Oh, Deer
I've skied at all three of the world-class resorts in Park City, and if you're got a snowboarder in your family you'll want to head straight to Park City Mountain Resort or the greatly expanded and remodeled Canyons Resort for some amazing runs  and magnificent terrain there.
But Deer Valley Mountain Resort is really something special. I'm not the only one who thinks so: the readers of Ski Magazine have voted it the #1 place to ski in North America for four years in a row.
There is no rap blasting out of the lifts, no snowboarding allowed. People are not "dudes" here. They are guests. There is a low-key gentility and genuine warmth that pervades. The lodges are posh, the dining options high-end, the runs groomed to perfection. What's more, Deer Valley Resort limits their ticket sales to prevent overcrowding. If you're a purist when it comes to skiing, the Deer Valley Mountain Resort is where you want to be.
Don't Try This at Home
If you want to take inspiration from the best, then head over to Utah Olympic Park to see some of the most skilled skiers in the world polishing their moves. It's one thing to see their stunts on television, but quite another to stand only a few feet away when a guy rockets thirty feet into the air contorting himself more than Charlie Sheen at an AA meeting. He'll never survive, you think. Amazingly, he does. Seeing it live makes all the difference.
"This one Goes to Eleven"
After your brush with fame, go low-key and take your dinner at the Chateau's cozy Cena Ristorante. The feel of this place is nothing like the Olive Garden knock-offs you often find on the ground floor of many resort hotels. This is personalized cooking from someone who is truly passionate about good food.
Chef Chris Wellmon gives me the nickel tour after I compliment him on the lamb shank, showing off his wood-burning oven like a rock star gushing about a newly acquired piece of vintage gear. Wellmon raves about the caramelization of the meats that come out of it, the care and constant feeding that keeps the fiery beast stoked. And his enthusiasm shows on the plate.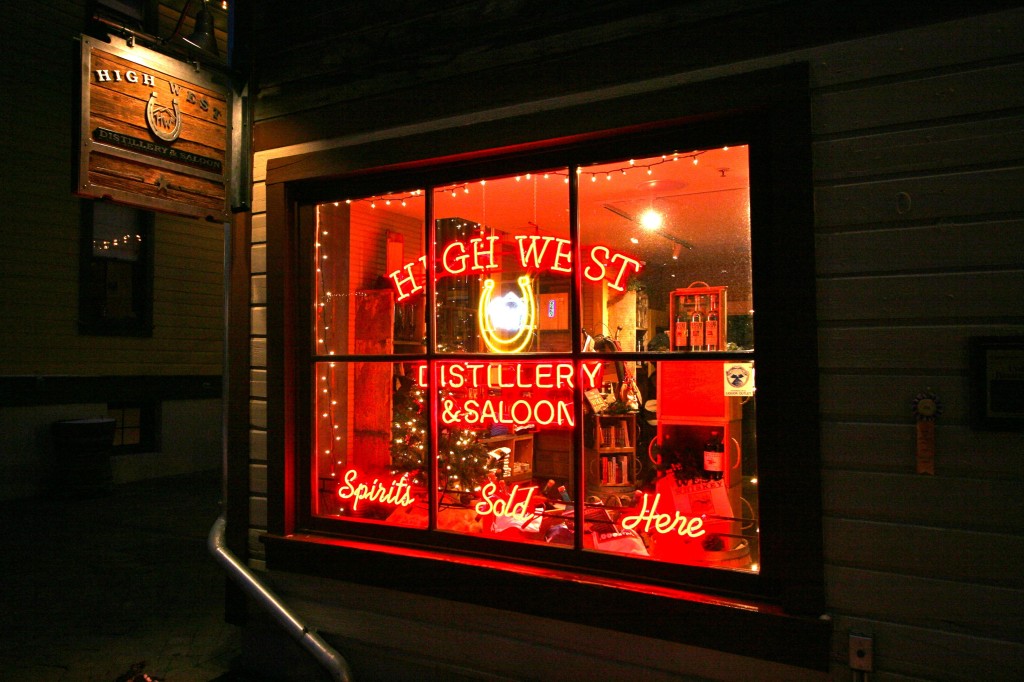 Park City
As delirious as the skiing is, it would be a shame if you didn't take a break from it and get to know Park City, the town. Unlike many villages that sprang up overnight around tourist destinations, Park City is a real place where people live and work.
Theirs is the story of a community that lost nearly everything and yet somehow mustered a reinvention. I've visited towns once rich from mining that have guttered when the seams of ore petered out, ghost villages that couldn't find a new way forward.
But Park City had something that other dying mining towns didn't have. They had the gift of snow. Lots of snow. And some magnificent terrain to receive that frozen manna.
In 1936, the WPA created the first ski runs here, and Park City shook off its old definition, hung on through the hard times, and now hosts some of the finest skiing– and the finest skiers– in all the world.
A stroll up historic Main Street takes you past some charming old buildings that actually owe their survival to the callousness of the bad old seventies. Developers put up some downright ugly buildings that galvanized the local historical preservation society. And these days they are militant about preserving their architectural history, including the tiny old miner's homes that are such a valuable part of the town's identity.
Visit the Park City Museum and learn more. This entertaining venue packs a lot of variety and history into its huddle of old refurbished buildings, and is definitely worth a visit.
Be absolutely sure to stop into High West Distillery for a tasting of their excellent spirits, especially their Rendezvous Rye, winner of the coveted Double-Gold Award at the San Francisco Beverage Institute Competition. The offerings just get more interesting after that, including a new silver whiskey made from oats with a distinct and pleasing sweetness.
From there, keep walking uphill. There are art galleries which I pessimistically expected to be copies of the places that cover Scottsdale and other Western cities. Cowboy art. Eagles. Noble Indians. That sort of thing. I was wrong. Sure, there is some of that. But I was knocked out by several galleries that had some genuine high-level international art, and had to tear myself away when it came time to go.  If you only have time for one, make sure you visit Hope Gallery to commune with Renoir, Degas, Munch, Durer, and many more. It's free.
End your tour at the top of the hill where sits Grappa Italian Café. This is where local husbands take their wives for special occasions. Standouts include the black truffle mac & cheese and their renowned osso bucco, but the specials are even more enticing.
Snow Culture 2.0
At lunchtime on Fridays in winter, the schoolchildren of Park City put aside their books and follow their teachers to the slopes. The second half of the last day of the week is spent gliding blissfully downhill. A lesson we should all be so lucky to learn.
Tips for the Trip:
TIP #1: Unless you have a deep emotional attachment to your skis, leave them at home, skip the rental counter lines, and rely on Ski Butlers. This ski valet service comes to your hotel at your convenience, performs a custom fitting with top, brand-name gear, and collects it when your trip is over.
TIP #2: Another nice incentive to travelers is Park City's Quick Start program, which lets you convert your airline boarding pass into a same-day lift ticket at either Deer Valley, Park City Mountain Resort or CanyonResort.
Story and Photography ©Robert Bundy