There's a wonderful illogic about India that drives many mad, but is also a great part of its appeal. The printed sign outside the Kathakali dance venue summed it up; tonight's performance, it announced, would be postponed "due to technical reasons at the end of every festival."  Of course, it would be easy to sneer at every mistranslation, and if I tried to explain myself in Malayalam or in Hindi, I would no doubt appear quaint and bungling, but nevertheless, I felt a wave of nostalgia for India as I read this sign. It was good to be back.
Kerala, located at the southern-most western tip of India, has become a favorite for western tourists because it is, to some extent, India lite.  A trip around northern India can be hard work, people crowding into you, strange customs, incomprehensible bureaucracy, many beggars, some lepers, shanty towns. All part of the romance, no doubt, but nevertheless quite a culture shock. Kerala seems to have a way of being most of the good things about India without the ones harder for a westerner on holiday to cope with; the astonishing scenery, the heat, the palm trees, the extraordinary and delightful people, the sense of history.
It helps that it is one of the wealthiest states in India, and one where education has been foremost. Until recently, it had a communist government, but Indian communism seems to have been different from what we imagine in the Soviet Block. It's a more ramshackle affair.  In Kerala the houses are newly painted, the motorcyclists wear crash-helmets, the cars look new.  This wealth has been around for some time, for because of its geographical position, Kerala was pivotal to the spice trade, since before the middle ages.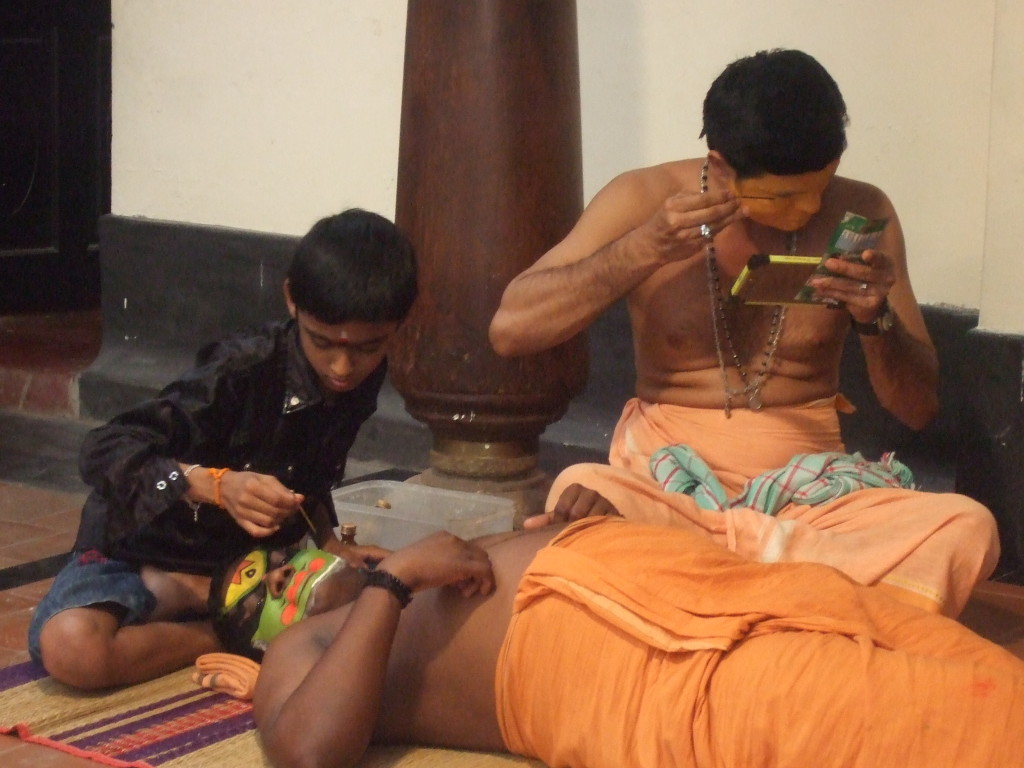 Cochin, where I landed, is the port from which the spice trade was controlled, and was a Portuguese settlement from early on. Although there are Hindus and Muslims here, more than half of the community is Christian. There is also a Jewish quarter, a famous synagogue that is situated in "Jew lane." Religious co-existence – with some ups and downs – has been the norm here for over a thousand years.
One family – the Varmas –were the royal family in Kerala  from the early 1500s until 1947. And although Keralans lived at the discretion of the king, the Varma dynasty's  lineage was matriarchal. A man ruled, but by virtue of his mother, not his father.  In the museum of the palace at Fort Cochin, one can see the family photos; groups of serious looking Indian men stand topless, around a forbidding matriarch, also topless.
Dance and Tradition
Kathakali is the traditional dance drama of Kerala. We go in to watch not only the Kathakali dance, but also the arduous putting on of make-up, which the performers suffer, lying down on their backs for two hours or so while the faces of the traditional characters are painted onto their faces. The performance is electrifying – one dancer seems to have a whole language in the twitching of his cheek–  and an impressively precise system of gesticulation with his fingers.  Performances start at 6 p.m., and so it is still light when strolling home.
Along the wharf at Cochin, where the Chinese fishing nets are (and have been for a thousand years) great hinged beams carry the nets, which are lowered into the water by a team of four or five men. Each net is built twenty or thirty feet out into the water along a rickety boardwalk.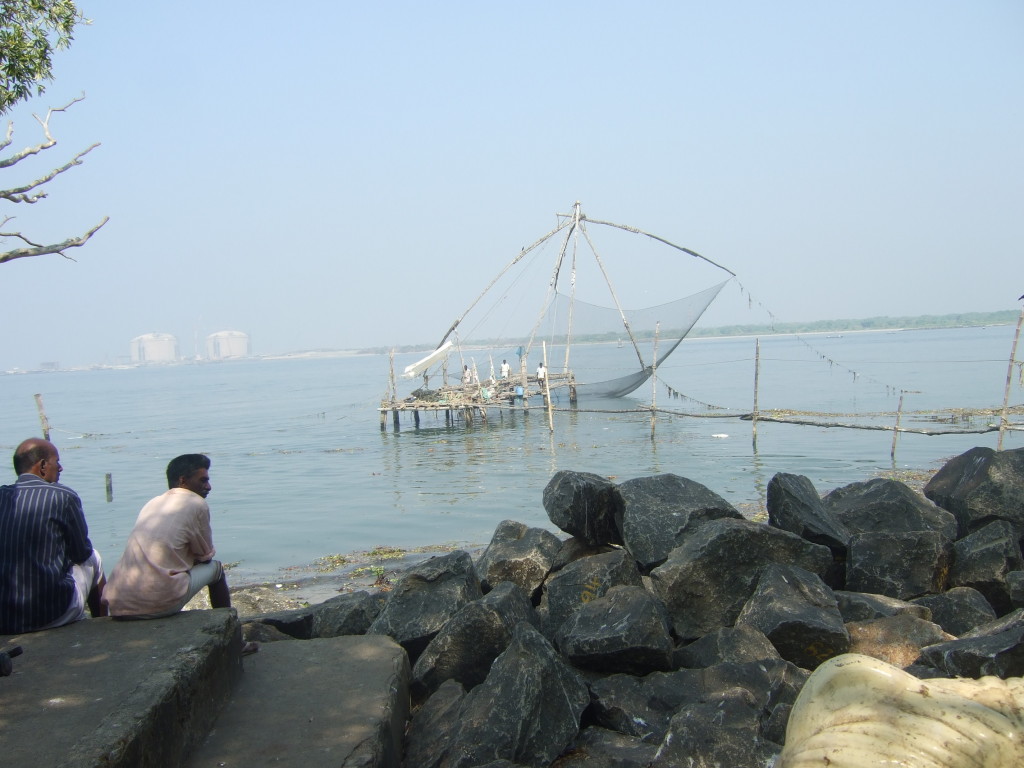 Privacy and Serenity at Lake Vembanad
After two days in Cochin we are scheduled to go up into the hills with our assigned driver. The journey takes us up towards the high tea plantations. We are going to stay on a rubber plantation in a hotel called "Serenity," which lives up entirely to its name. There are only five guest rooms. Meals are served in the courtyard. The staff is charming and quiet. On our first evening we are taken on a tour of the rubber plantation by the hotel manager.
The Brits brought rubber here in 1873, along with tea from Ceylon.  The rubber trees are still giving off rubber, and one can see sheets of it hanging out to dry on washing lines. Each sheet is about the size of two A4 pieces of paper and about as thick as banker's wallet. It smells very strongly – of rubber surprisingly enough – and is a sort of dirty brown-black in color. One kilo of latex sells for 4 Euros and the there are 1300 trees on this estate that are "cut" into every other day to drain off the precious sap.
Diluted tobacco is used as an insecticide spray here and the rest of the vegetation is plentiful. There are hibiscus and tamarind trees, Banyan trees – those ones that seem to be upside down with their roots falling downwards from the branches. There is a "rain tree," which is an enormous old tree with a vast canopy, so called because it creates moisture under its bows. There are frangipani trees and mango trees, with their myriad bunches of leaves which remind one of Indian miniature paintings.
The estate also contains rice paddies, cocoa plants, nutmeg, coffee, ginger and tapioca, which interestingly enough turns out to be a large gnarled root, and not, as I had always thought of it, a grain; a tough looking twisted piece of wood. After our walk around the plantation, which also took in the local school, we relaxed back at the hotel for a couple of nights before moving on to an even quieter hotel, down by Vembanad Lake; this one was called "Privacy," which seemed like a stupid name to call a hotel until we got there. In this hotel there are only two guest rooms, about fifty yards away from each other. In the restful gardens sits a large pool, a staff of five or even six look after the guests, as they relax on their verandahs, looking out over the massive lake.
The lake is what this place is all about.  One can barely see to the other shore, and to the left and to the right are horizons of water. Vembanad Lake is 75 kilometers long and 8 kilometers wide. Every now and then, the bamboo covered rice boats will drift by, and in the early morning banana shaped fishing boats glide by in silhouette. In the two days we were there, there was the sound of a motorboat once. It came bouncing across the flat, glassy water to us from a great distance and when it was gone, the quietness quickly reclaimed the afternoon. This was, I think, the least noise pollution I have ever experienced. However there were other kinds of pollution – unfortunately the lake is beginning to show plastic bottles. We went out on a canoe and tried to collect a few up, but one can only pray that the government of Kerala is wealthy and wise enough to take this ugly threat seriously. This wetland area is one of the wonders of the world as far as I'm concerned.
On the last morning at Privacy, we rose early.  The sun was a deep cerise pink through the light mist and the fishermen punted their long dark canoes out into the center of the lake. A man was standing waste deep in the water on the shore, submerging his head and shoulders occasionally and cleaning his teeth with his finger. Within a minute the sun had turned a golden yellow, which reflected in an avenue of brilliance across the water towards us. The lake was numinous as the mist lifted to reveal our driver waiting to take us to our next port of call.
Magic in Alleppy
We were scheduled to spend two nights on board a rice boat, with a skipper and a cook to keep us company. I once lived on a houseboat on the Thames in London, and the accommodation was similar. This is my idea of heaven; to be exploring inland waterways in the sunshine, looking at exotic birds through binoculars, feeling the slight lilt of the deck beneath your feet and a warm breeze across your face.
The two-day trip enabled us to go further away from the main water thoroughfares that run in and out of Vembanad Lake. We set off from the town of Alleppy and visited smaller and smaller villages and schools, and took canoe rides with our crew as the waterways we travelled on became narrower and narrower. The accommodation was basic, but the boat itself is a thing of beauty. Perhaps eighty foot long and twenty feet wide, covered in woven bamboo hoods.  Its prow is reminiscent of a Polynesian Pirogue and it sits low in the water. At lunchtime, a fisherman comes alongside and sells his catch – lobsters which are grilled up with spices by the chef.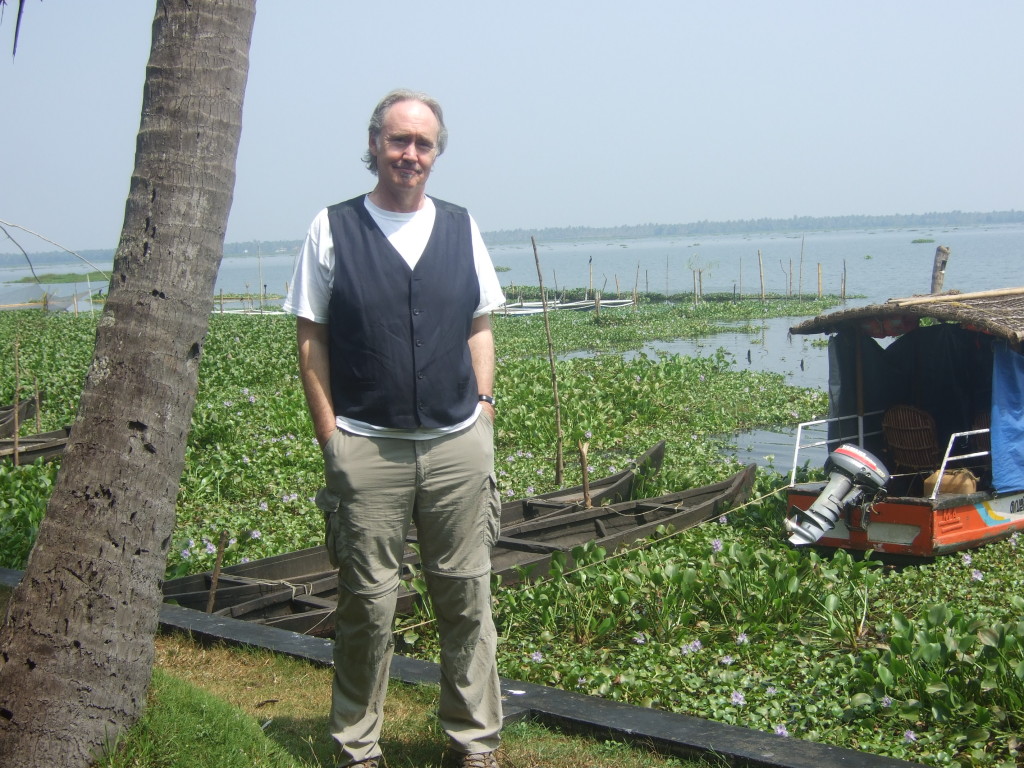 We left Alleppy for the inland waterways on a Saturday, so the main thoroughfare was initially very crowded with leisure boats filled with Keralan families on a day out. On our left, the church of Chithira, on our right something called 'R Block' which is a working Spice Island, where cardamom, pepper and turmeric are grown in great quantities. It looks very enticing but is evidently rich with poisonous snakes.
On the Sunday we visited a local church in the village of Champakulam, where the ceremony, although Christian, seemed to owe much to Jewish and Muslim tradition; the wailing prayers, the way the women stood on one side and the men the other, the rows of shoes left outside the door. Also in this village were further reminders of that special illogical magic that I like so much about India.
On one side of a lane was a sign which read "Beauty and Fancy Parlour," and on the other side we stopped by "Leo XIII's Reading Room" a concrete shed by the water, with completely open windows, containing about twelve very old men with neck scarves watching a Bollywood movie with the volume turned up. By the door was a portrait of Pope Leo XIII. Don't ask me why.
Story and Photography by Nigel Planer