On a trip to London in 1998, my wife and I stayed at the home of a dear friend who had lived in London for half a century. While I had visited the old city many times, my wife had never traveled there before, and so I was taking her around the town to see a few of the world-class sites for which it is rightly famous. One morning, I informed my London-native friend that we were off to tour The Tower of London, a must-see for any first-time visitor to the city. "Oh, yes," he quickly agreed, "I hear it's marvelous!"
While my friend had been to India, Africa, the United States and Europe, he had never set foot in the Tower of London, despite the fact that he lived walking distance from its doors.
We all do it. It can be easy to forget about the great destinations in your own backyard. Because you know you can go there anytime, paradoxically, sometimes you never actually do. That was the case with my English friend and many of the sites in his hometown of London, and it's been the case for my Milwaukee-native wife and I when it comes to Door County, a mere three scenic hours north of our front door. "Oh yes," we've said to ourselves over the years, "We hear it's marvelous!" This year, we decided to do something about it.
Better Than Ever
While we may have neglected Door County, its citizens most definitely have not. At a time when parks, refuges and natural environments are under greater threat than ever before by unbridled development, The Door County Land Trust has acquired not one but two important parcels that will help ensure that Door Peninsula remains a treasure for the enjoyment of future generations: The 16-acre Grand View property in Ellison Bay was very nearly lost to a massive condominium complex, but will now be preserved and open to everyone.
And just last April, the Trust purchased a whopping 483 acres of pristine wilderness located in the town of Sebastopol—the largest purchase in the history of the Land Trust—making it the largest conservation project in Door County in almost 50 years. Way back in 1905, President Theodore Roosevelt first recommended this area for preservation, and now, more than a century later, the Trust has accomplished Roosevelt's dream. The least you can do is visit it.
The Quiet Side of The Door 
A string of charming small towns link together along the coastline of Green Bay on the west and Lake Michigan on the east. Egg Harbor, Fish Creek, Ephraim, Sister Bay, Ellison Bay– and more– are all worth a visit. While you could pick one town and just laze around for the entirety of your stay, the real pleasure is in browsing from one to the next and savoring the simple pleasures of each.
Bailey's Harbor makes a splendid home base for your explorations, backing up against the Toft's Point Nature Preserve, steps from the Ridge Sanctuary, and the Mud Lake State Wildlife Area.
Stay at the Bailey's Harbor Yacht Club. Our room had a full kitchen, a fireplace, a spa-like bath with a whirlpool tub, and glass patio doors that opened out onto a manicured green lawn that led down to a chorus line of Adirondack chairs facing the lake. There are also two great pools, one indoor and one outdoor, steam room and sauna, boat access, and a children's playground. There are no dining options onsite, but discovering the local restaurants here is half the fun.  Once you've checked in, leave your car in the parking lot and walk a short ways down the road to The Ridges Sanctuary.
The Ridges
The Ridges Sanctuary, enjoying its 75th anniversary this year, is the oldest private nature preserve in the state. Five miles of trails lead you through pristine environments that are said to be the most diverse in all Wisconsin, with one of the largest concentrations of rare plants in the Midwest. It's also a National Audubon Society Important Bird Area, and a National Natural Landmark. You can meander through the trails alone at your own pace, or take one of the offered tours to get a more in-depth view.  Once you've worked up an appetite, head to downtown Bailey's Harbor to give it a treat.
The town of Bailey's harbor is charming, with a strollable main street dotted with fine restaurants, cafes, ice cream parlors and boutique shops. You can walk from one end to the other in less than ten minutes, but stop halfway through for dinner at the Harbor Fish Market & Grill on the lake side of the street. If weather permits, sit in the garden and look out at the water while you dine on fresh walleye, perch or fresh seafood. They also do an excellent espresso-chili-chocolate-rubbed ribeye steak. This is a great place to idle after a meal, watch the gulls mouth off at each other above the water, and recount the day.
Also in Bailey's Harbor is PC Junction, a road-house-style family restaurant where your meals are brought to you on a model train, a big hit with little kids. Directly across the street from PC Junction is Stone's Throw Winery, a big hit with adults. In a region best known for sugary-sweet cherry wines, the sophistication of Stone's Throw wines come as a pleasant surprise. If you want to savor your astonishment, visit their outdoor Vino!Vino! wine bar and graze off their menu of small plates to go with their excellent wines.
Crossing Over
The area has been a vacation destination for ages, and there is no shortage of things to do, especially on the Green Bay side. Part of the fun of exploring here is allowing yourself to wander, so its best to not over-plan. With that in mind, here is a list of noteworthy places we visited on the Green Bay side that are well worth recommending.
A visit to Al Johnson's Swedish Restaurant and Butik is a must for their Swedish pancakes with lingonberries, and kids love the sight of the famous goats wandering around the top of the restaurant's sod roof. If you have a child, they may even helpfully point out that there are adorable goat dolls available for sale in the gift shop.  To their further delight, the actual goats can even be monitored remotely from the comfort of your own home with Al Johnson's Goatcam. Honestly.
 The White Gull Inn has received national attention for its Door County cherry-stuffed French toast. They also offer rooms to visitors in their bustling 1896 house. You'll want meal reservations here, especially on weekends, as the place is no secret.
Many restaurants up and down the coast offer traditional fish boils but Viking Grill in Ellison Bay originated it and still executes the presentation with theatrical flair. The recipe calls for whitefish cut into chunks, red potatoes, onions and salt– that's it– to be cooked in a cast-iron pot until the oils rise to the top and spill over, helped along by a splash of kerosene to the fire that engulfs the entire pot and rises to 8-10 feet in the air. It's quite a show. Standing around the fire with a beer in your hand is as much a part of the ritual as the dinner itself.
For an enjoyable time-travel experience– and even more enjoyable ice cream– visit Wilson's Restaurant and Ice Cream Parlor in Ephraim. Situated across the road from the water, Wilson's has been serving home-brewed root beer and ice cream treats in a classic soda-fountain style for 106 years. Grab a seat on the antique porch or in the grassy park by the water and meditate on the eternal value of simple pleasures. White linen suit and straw boater are optional.
Another neat place for frozen delights is the Not Licked Yet Custard stand in Fish Creek, which also offers a fun kid's playground so little ones can burn off their inevitable sugar rush.
The Savory Spoon Cooking School and Schoolhouse Artisan Cheese Shop occupies a former schoolhouse from 1879 in Ellison Bay. They sell delectable cheese samplers perfect for picnics, tools and toys for foodies and chefs, and offer seasonal cooking classes from June through October.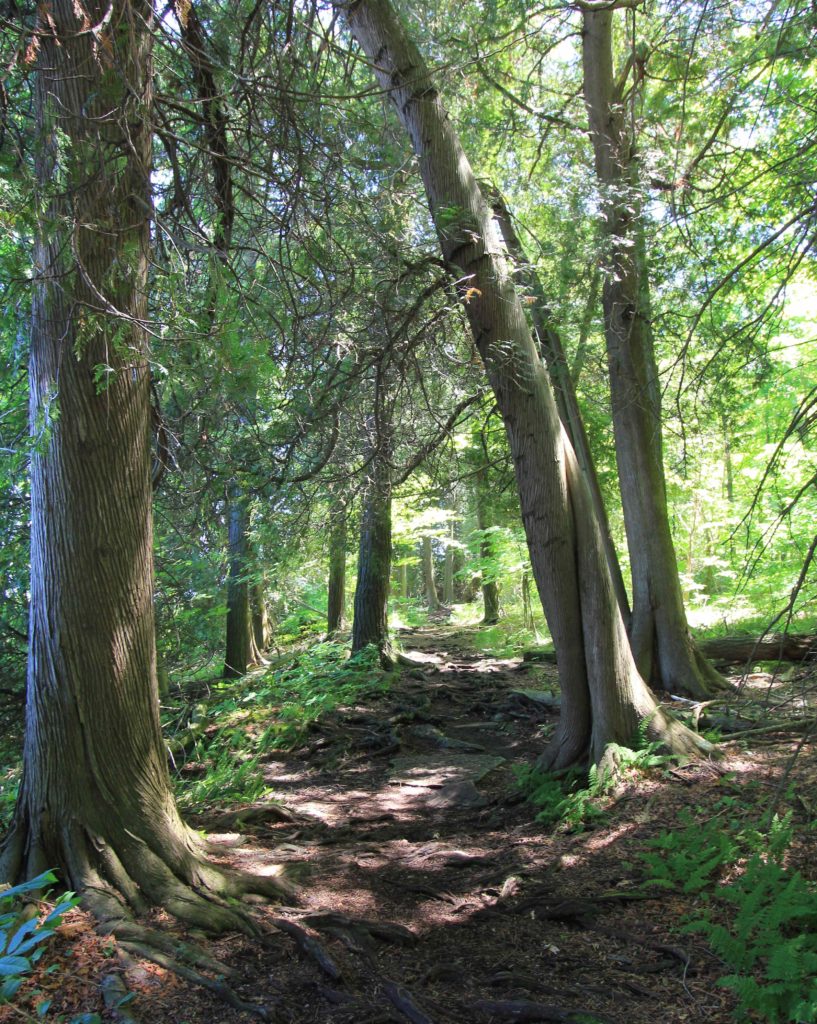 By far, our favorite hike was the Eagle Trail in Peninsula State Park. This two-mile hike is marked as "Difficult", but our four-year-old son loved it, though there was admittedly some hand-holding over the occasional rough terrain. Along the way you will see gasp-inducing sheer cliffs and hidden springs trickling down the rocks to the water, pass crumbling small caves and step over thumbleberry, trilliam and other wildflowers as you pick your way along the path. This, alone, was worth the trip.
So Much More
What else did we do? We swam in the bay at Egg Harbor. We visited fruit stands and ate samples and bought Door County cherries in every imaginable form. We read the names of the ships that have moored at Anderson dock in Ephriam and left their marks on the walls of the old outbuilding there.
I gave my boy his first fishing lesson, we caught a little bluegill, and agreed that it was both wonderful and yucky.
We skipped stones and watched the ripples go out across the water to be absorbed into the distance.
We all held hands together on our walks, made possible by their being empty of cell phones, remotes and computer mice.
Better Late Than Never
A couple of years ago, my English friend finally took his son to the Tower of London, and he reported that it was indeed, as he had heard, marvelous. Better than he had thought it would be, in fact. That's how my wife and I now feel about Door Peninsula, the crown jewel in our own backyard.
When You Go
To visit Peninsula and other State Parks, you will need to purchase a daily park visitor's pass for $7. Annual passes are also available for $25 and really, shouldn't you just go ahead and buy the annual pass?
Story and Photography ©Robert Bundy